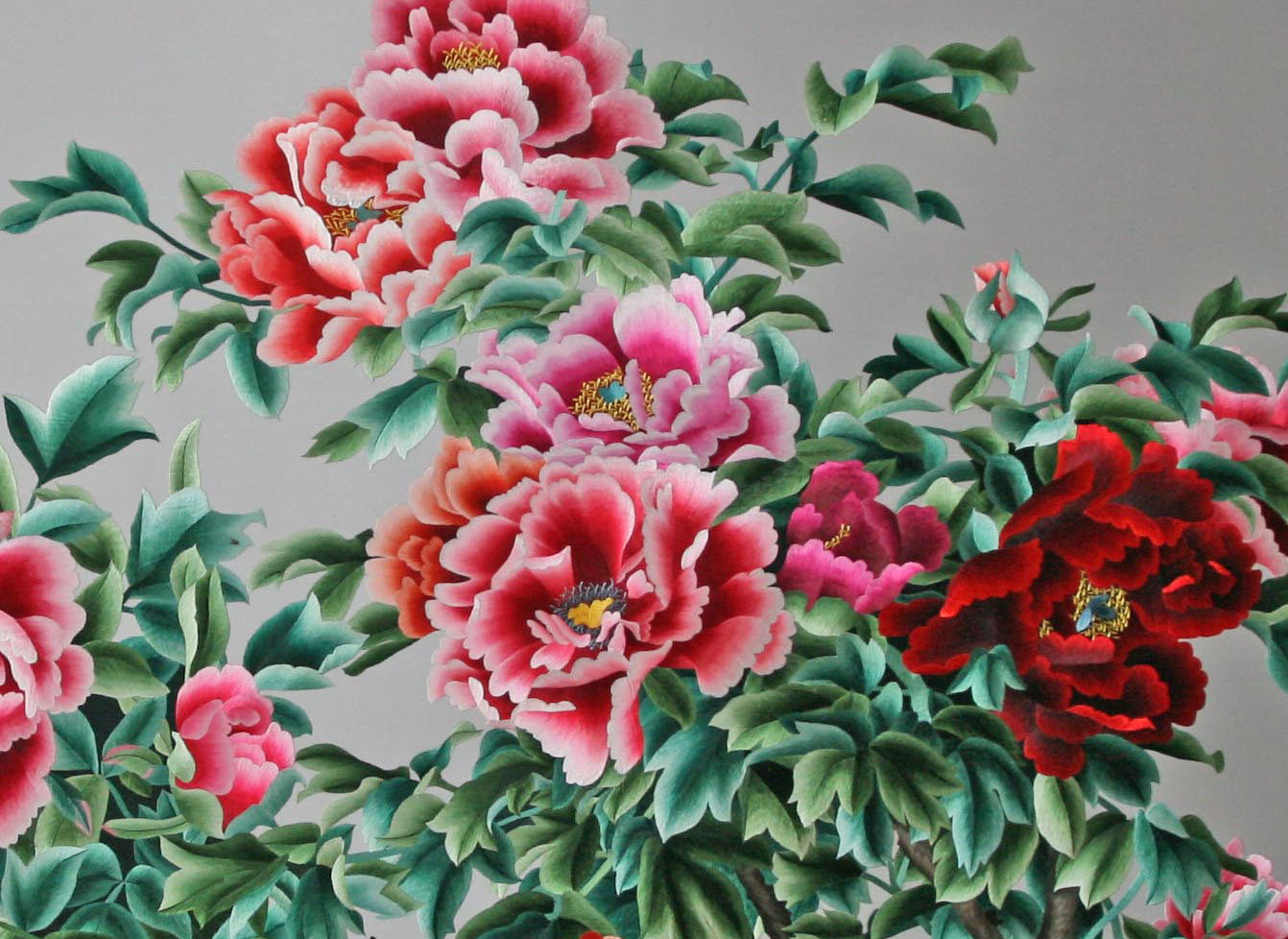 I first became fascinated with Chinese Embroidery when I went to an exhibit at the Denver Art Museum several years ago. I was and am amazed at the workmanship and artistry that is exhibited in this truly fine art.
Just imagine all of those (primarily) women working in the Emperor's factory just to make garments for the royals.  Incredible!
---
The history of silk begins in China–silkworms were domesticated as early as 5000 years ago. Silk, in textile and embroidery form, was the main product transported along the ancient Chinese Silk Road. The production of silk thread and fabrics gave rise to the art of embroidery. Simple embroidery decoration was customarily worked on wool, linen, and hemp cloth as fare back as the Neolithic (the last stage of the Stone Age) period.
The oldest embroidered product in china on record dates from Shang Dynasty. It was not until later on, as the national economy developed, that embroidery entered the lives of the common people.
Han Dynasty (221B.C.-220A.D.) Embroidery
Through progress over Zhou dynasty, Han Dynasty witnessed a leap in embroidery at both technique and art style. Designs covered a large range, from sun, moon, stars, mountains, flowers, grass, clouds, tigers, dragon to phoenix and geometric patterns, also auspicious words.
Most of women were able to embroider. Embroidery became part of their life by adopting techniques and practicing products daily, and they became good at this. The Royal families and aristocrats needed lots of embroidery products for their wall hangings, floor decorations, bed coverings, clothes and even for articles included in burial.
Embroidery in this period symbolized social status. High quality embroidery products were for noble needs. The common people could not afford top grade embroidery products, so they only could have few embroidery adorning their daily items. Chain-stitch was still the main stitch method, but some straight stitches were developed during this period.
Tang Dynasty (618-906) Embroidery
As Buddhism boomed in China during this time, embroidery was widely used to show honor to Buddha statues. Buddhism portraits were popular at that time. Can you believe that a court maiden in Tang Dynasty, Lu Meiniang, embroidered seven chapters of Buddhist sutra on around one square feet silk.
Embroidery was more for daily and decoration use and Chain-Stitches was the main stitch method before. But plain stitches were developed and thread colors could be changed gradually. That made embroidery designs more splendid and rich. Because of plain stitches, embroiderers could freely develop and work out their ideas artistically.
Song Dynasty (960-1279) Embroidery
Song Embroidery adopted religion portrait techniques and moved forward to real portraits, and reached the peak of development in both quality and quantity, and into an art form by combining calligraphy and painting. New tools and skills were invented.
Song embroidery was significantly improved several aspects:
straight stitches: many new stitches were invented and made lines and colors changed easily and smoothly.
improved tools and materials: the use of fine steel needle and fine, thin silk thread;
combined painting and calligraphy art, worked on famous paintings, and sought the spirits and tastes of the painting into embroidery.
During this period, the art of embroidery reached it's top level. Vivid and vigorous images were realistic. Embroidery was divided into two functions: art for daily use and art for art's sake.
Yuan Dynasty (1280-1368) Embroidery
The religious touch of embroidery was strengthened by the rulers of Yuan Dynasty who believed in Lamaism. Embroidery was much more applied in Buddha statues, sutras and prayer flags, besides of clothing embroidery embellishment.
Ming Dynasty (1368-1644) Embroidery
As the sprout of capitalism emerged in Ming, handicraft and many industries flourished.
Used widely for all purposes and brought up high embroidery to popular culture.
Quality of Embroidery and materials for daily use were improved. Skills were more proficient. During the Ming Dynasty professional family and individuals emerged.
the scope of art embroidery expanded to hair embroidery, paper embroidery, patch needlepoint, yarn embroidery, metallic-silk embroidery and more.
Qing Dynasty (1644-1921) Embroidery
The nation was peaceful and the economy was booming at middle of Qing Dynasty. Qing embroidery was developed and improved further in wide range of embroidery: vivid, lifelike images, unique splendor, beautiful and elegant, quiet dignity and artistic effect, and even more on decorations for all kinds of daily use.
Qing embroidery inherited the features of Ming embroidery and absorbed new ingredients from Japanese embroidery and even Western art.
Republic (1921-1949) Embroidery
China had plunged into an abyss of suffering and poverty. Artists were struggling to survive could hardly to pursue artistic creations.
Embroidery didn't get developed or improved, but spread to the basic necessities of daily life. Clothing with embroidery were commonly used for Republic embroidery. Art embroidery was rare.
People's Republic of China and Cultural Revolution
In 1949, the People's Republic of China was formed. People lived stable lives and cultural development and art became the main objective of leisure life. Embroidery techniques were improved yet again bu the subject matter was limited primarily to prominent political figures or political topics.
From 1966-1976 embroidery basically stopped. The whole nation suffered from the Cultural Revolution Movement.
The Cultural Revolution ended after 1976 and outstanding embroidery techniques reached their high. Techniques continue to grow and improve although most Chinese Embroidery is now machine produced.
There are still master embroiderers who continue to save the art of hand embroidery in China.
---
Embroidery is an art that I believe is unappreciated. It is not classified as an art but rather a handcraft. But, to me, it is an art and should be valued that way. But for those of us that do not have the artistic ability or fine motor skills to create and embroidery, there is always the machine. You can create wonderful embroidery with today's computerized embroidery machines. Click here to see some examples.